Sanon Jeanwildert paints Egyptian Goddess and sea spirits
Sanon Jeanwildert (36) has been painting beautiful colorful paintings for 4 years and has been studying at the New Vision Art School in Port-au-Prince for 3 years. Like his fellow student Jeansaintil Yvena, he gets his ideas from different cultures, such as Egypt.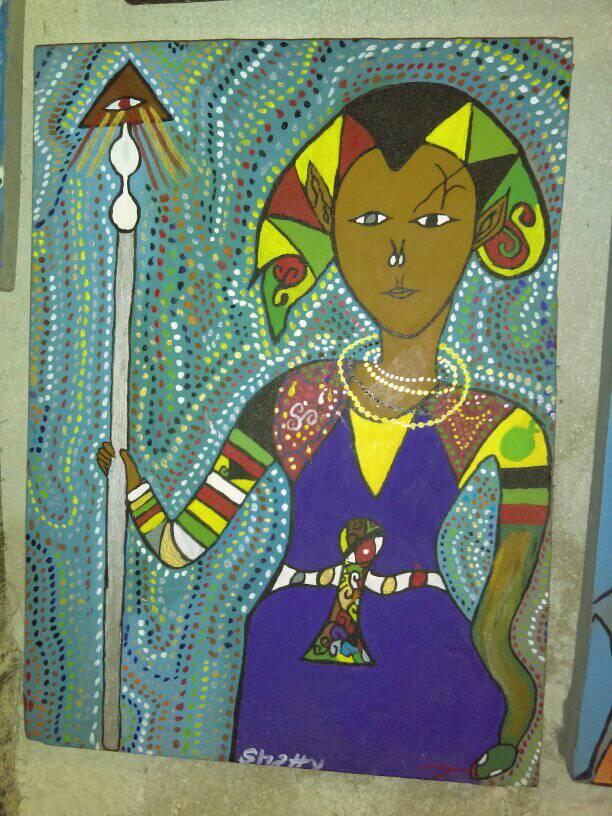 Jeanwildert: "There are many things that inspire me to create my own works of art, such as nature, history and my experiences. I am not religious like my family, but I do believe in the invisible world and use it in my paintings." The artist feels a special spiritual bond with Egypt and created a breathtaking painting The Goddess of Egypt. Jeanwildert explains "The goddess represents to me a protection against the unclean spirits of this world. She is the eye of justice. What inspired me to paint the goddess is the lack of world protection. I see chaos through the unclean spirits of this world, the war spirits. I also see the lack of an eye for justice, and global oversight in political and social fields. Too little attention is paid to human life, trees, animals and the climate. This is what inspired me to paint the goddess."
Pyramid with eye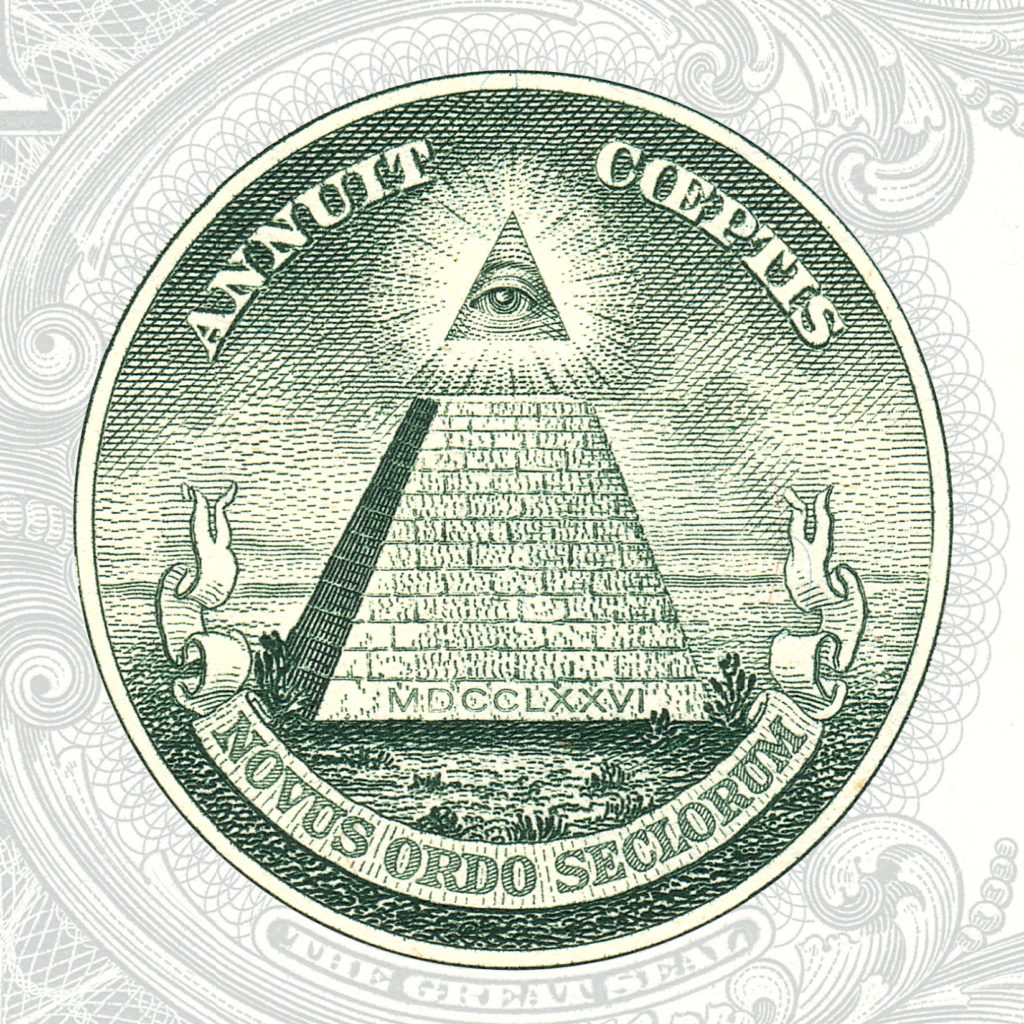 In the painting we see an eye in a pyramid, which is one of the most controversial symbols of the moment. Some people see it as evil because it is depicted on the US dollar bills. They attribute the symbol to the so-called Illuminati, a small powerful group of empires, who set out to conquer, oppress and exploit the world through Satanic rituals. Jeanwildert does not refer to the illumination, but refers to the eye of justice of the Goddess of Egypt. The original meaning of the eye in the pyramid is the all-seeing eye. It developed in the 17th and 18th centuries in Europe and North America from the Egyptian eye of Horus. The motif symbolizes an eye that sees all or the eye of God, and is often associated with Freemasonry.
Veves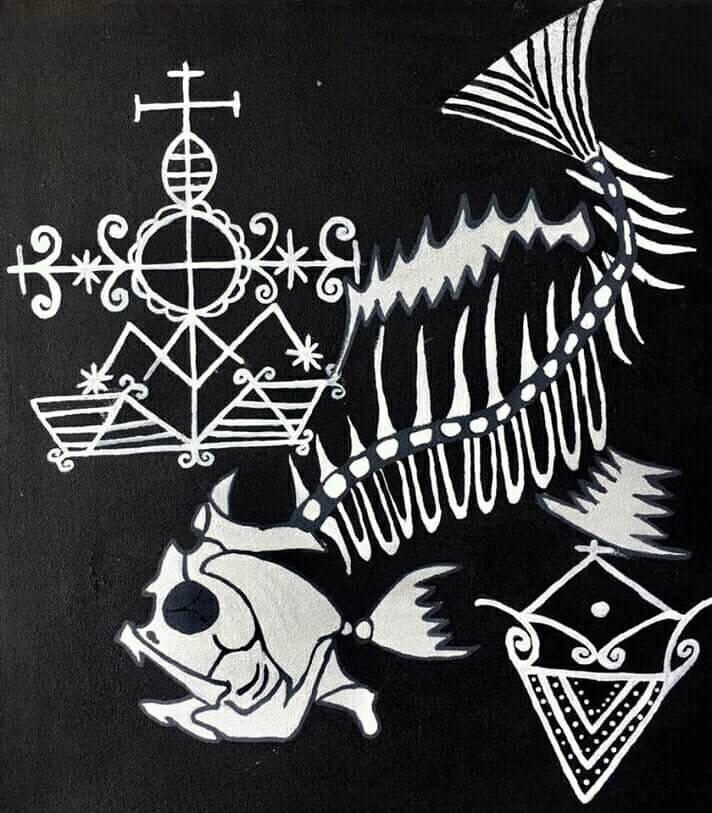 In addition to colorful art, Jeanwildert paints special white veves against a black background. Veves are spiritual symbols, originally made only by official houngans and mambos (Vodou shamans) during ritual gatherings. These are widely used in various branches of Vodun in the African diaspora, such as Haitian Vodou. The veve acts as a "beacon" for the loa (the spiritual guide) invoked during rituals. Every loa has its own veve.
In the photo below you see Sanon Jeanwildert painting a veve of the loa Mèt Agwey, with whom he also feels connected. Mèt Agwey is the loa (guardian spirit) of direction. He belongs to the Agwey family, who live in a glorious palace under the sea. With Agwey controls the wind, currents, waves and depths of the oceans. He helps sailors orientate themselves when they are lost at sea. People invoke his help for inspiration and guidance in times of turmoil, loss or indecision. He is patron of sailors, sea travelers and pirates.
Ambitions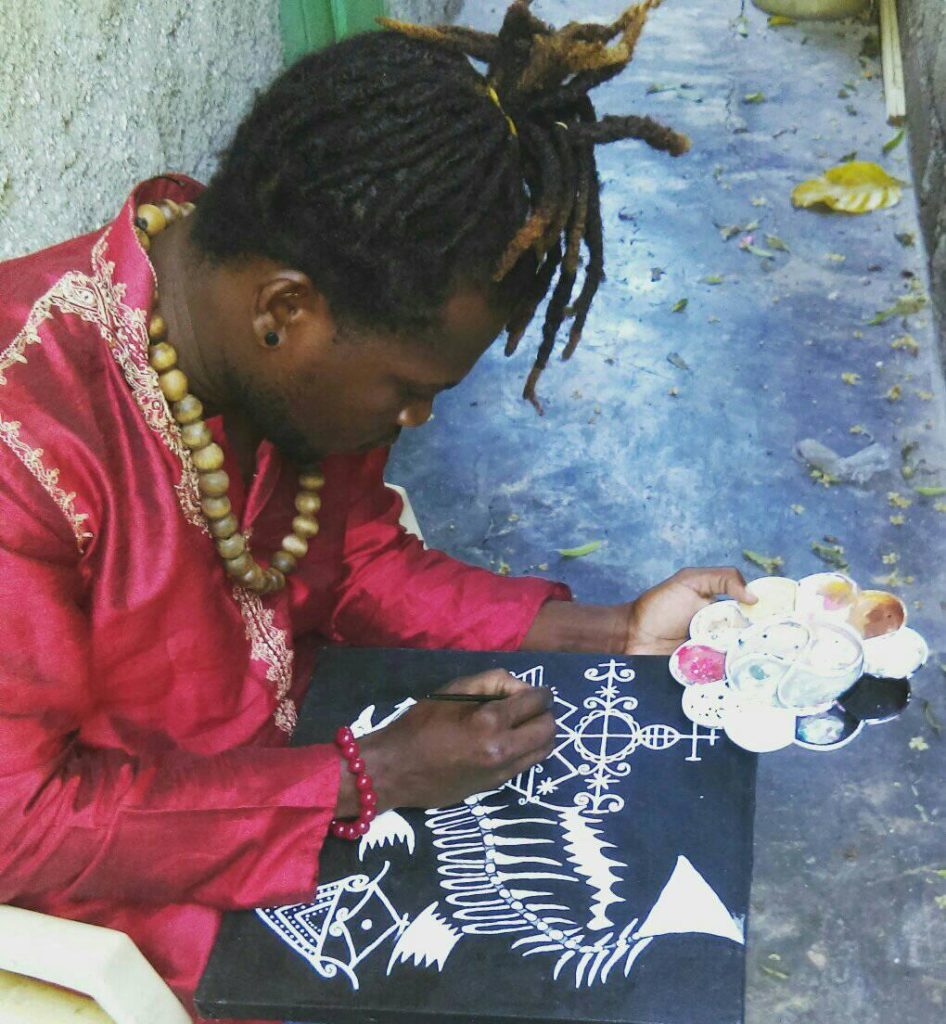 Before he dies, Jeanwildert would like to become famous and use his training, experiences and travels to become a mentor in art for young people. His teacher Lesly Pierre Paul is a shining example for him. "Lesly Pierre Paul is a talented young artist that I like a lot. He has many great abilities, but the reason I like him so much is his courage and the audacity he brings to his paintings." So far, Jeanwildert has exhibited once, but he plans to exhibit all over the world.
Like his fellow students, he is very much looking forward to the study trip to Santo Domingo, which he will soon be making. "I can't say what I'm going to see because it's my first time going. But what I know that all I will see will be an experience that will mark me for the rest of my life. I also look forward to meeting my art brothers there and gaining much more experience." he says.
Like his other Haitian fellow students, Sanon Jeanwildert does not have enough budget to go on a study trip. They will therefore be very happy with your donation! For more information click on the crowdfunding below: