Earthship glam in ecovillage Olst
When I think of earthships, I think of reused materials, sustainability and less consumption. I expected to meet a couple of alternative hippies trying to make the most of little space in a clumsy improvised way. I admit that I was a bit biased… In Olst it appeared nothing like that! I was amazed by the luxurious extravagant spacious houses of the people here who created their own private paradise. Even the compost toilets are chic. Watch the earthship glam in ecovillage Olst.
The earth ship quarter looks like this on the outside:
All the houses have been designed differently:
Nothing like garbage
Wouter and Barbara used pallets, pieces of natural stone and bottles for their house, but it looks nothing like garbage on the contrary…
No experience
In 2006 these people came together as group of friends and acquaintances who did not have experience in building houses. They made plans for the new ecovillage and 10 years later the village was created! The technique of the buildings was based on the ideas of the American biotect (bio-architect) Michael Reynolds, who created a couple of earth ships himself in the States and who later helped to build an earthship teahouse in the city of Zwolle, which is not far away from Olst. The idea behind earthships is to use 'garbage' material, for example tires, pallet wood and old doors.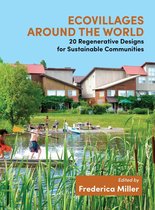 Ecovillages around the World€ 10,66Direct beschikbaar Koop bij bol.com